Toxic Lion Murdering Dentist Walter Palmer Questions Other's Humanity
Walter Palmer, the dentist who murdered a popular celebrity lion named Cecil from South Africa had the audacity to say to the press recently that he would never have killed Cecil if he knew Cecil was a celebrity lion. His toxic statement reflects Palmer's  superficiality and lack of humanity. it doesn't matter if Cecil was a beloved Celebrity lion or an average lion roaming about. What matters was that a lion was murdered for no reason at all. The lion was murdered so that Water Palmer could feel powerful  and macho in that he killed a wild beast.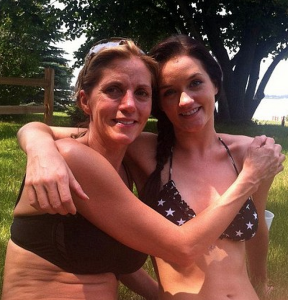 Then he had the audacity to discuss levels of  "humanity" as he stated  to the AP and Minneapolis Star Tribune, "This has been especially hard on my wife and my daughter." "They've been threatened in the social media, and again … I don't understand that level of humanity to come after people not involved at all."
Well maybe if Palmer didn't murder an innocent  animal in the helpless animal's own habitat minding his own business then he wouldn't have to worry about his innocent wife Tonette pictured on the left and his daughter Natalie  Palmer-Botes pictured on the right  being subjected to the same abuse that he subjected the lion. The animal was threatened and murdered and now he is experiencing karma- what it feels like for innocent people to be threatened and their lives being in danger.
The doctor is going back to work as though nothing has happened he says that his patients need hima nd are glad he is back. What kind of patient's are these? Personally, I could never look at my dentist, let alone having him treat me as a patients if I learned he was involved in lion murdering.
What Palmer did was unforgivable  in my view. It upsets me greatly just as it upsets every other animal lover in the world. He needs to be held accountable for this egregious act. In my view he need to donate a large portion of his earnings tolion welfate charities like http://www.savingthelion.org/  He needs to make right his egregious wrongdoing.  Maybe then he can learn more about "humanity."