Meghan Markle Dad Body Language Shows Severe Sadness  and Anger at Distancing From Meghan And Doing Media Spin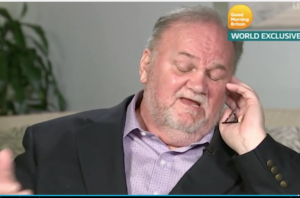 With his voice shaking and in tears Meghan Markle's dad showed up on Pierce Morgans show to apologize for having the paparazzi follow him around and say that he was a hermit living in Mexico for a year.  He said that he is the one who instigated this while he looked down and said that he apologized to Meghan and Harry for it. But his body language showed that he was  clearly not a willing participant.
This interview was painful to watch as it was no doubt the Royal PR Spin Machine at work trying to change his image. It was not working. He looked so uncomfortable and leaked out his true emotions of  anger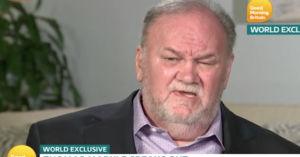 and terrible sadness as he looked down and fidgeted and his voice cracked constantly. he said he didn't want to be relegated as a footnote in the biggest day of his daughter's wedding and would have wanted to walk her down the aisle.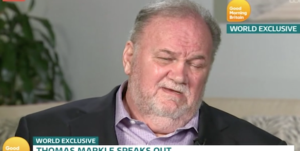 Throughout the interview, he looked as though he was about to cry at any minute. The fact that he said that Harry phoned him and asked for his daughter's hand in marriage and said to Harry to " never raise a hand to her" speaks volumes. No one thinks like that unless they are the ones who raised a hand during their own marriage. That is their form of reference.
So now we have a glimpse as to what Meghan's life must have been like in terms of possibly witnessing domestic violence between her parents.
It is clear that the Royals want her father far far away. They concocted a story that he had open heart surgery the day of the wedding. That was bogus as the next day he was out getting McDonald's and the next day he was out getting Chinese food. There is no doubt he did it purposely as q way to show he wouldn't be silent and that he was not having open heart surgery or recovering from it. Tclearlyeary embarrassed the royals
The Royals were getting a bad rep for outsing him from the wedding since they clearly saw he wasn't ill and not allowing him to walk her down the aisle.
So they let him out of his cage so to speak, to speak to the press ( and not all the press but the Piers Morgan Press) who is the Royalty of Journalism so they trusted him to present Mr. Markle without doing a hatchet job that other press would do.
So basically they trotted him out to quell the people's confusion and criticism but truth be told, he still leaked out his despair.
The one good thing he said was that he was proud of his daughter and that the whole world was watching her walk down the isle and that he couldn't think of  better person to walk her down the isle than Prince Charles.
Comments are closed