Did Kavanaugh Lie About Definition of Boofing, Golden Triangle, FFFFF, and Renate Alumnus?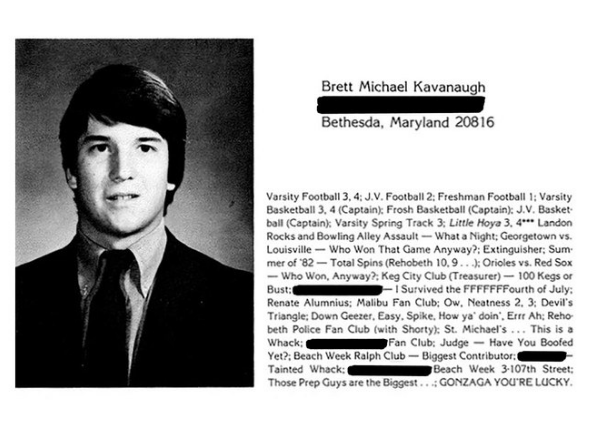 In doing a body language analysis of  Judge Brett Kavanaugh I observed that he was highly emotional, often on the verge of tears and very angry.  He did seem forthright showing no signals of deception in discussing the rape and When questioned about whether he could have blacked out what happened, a red f gang rape allegations. But what did emerge as a red flag was when he asked a question with a question and was very defensive to the Senator from Minnesota. He since apologized to her personally. Most people without drinking issues would have just answered No. But he didn't do this so there is a clear emotional charge related to his drinking.
   As he showed no signals of deception when discussing the alleged incident of rape and molestation, either he was telling the truth or he completely blocked it out of his mind as never happening – something which can often occur often when someone had consumed alcohol excessively. Either way, he passed a body language analysis of showing no signals of deception in that regard.
    But what IS cause for concern is his deception as related to the terms he wrote in his yearbook as you will see below. Having never heard any of these terms before, I looked them up after his testimony and found the following:
BOOFING according to the urban dictionary means putting alcohol or drugs in your anus  ( rectum) for a bigger high. He said it meant farting.
FFFFF According to the Urban Dictionary means a way to avoid saying the 4 letter F-word by simply drawing out the F word. he said it related to a person he knew who stuttered, If that is true, that alone shows bad character to make fun of someone who stuttered. It shows someone who bullied and made fun of a speech impaired individual.
But the fact that he put FFFF in front of Renate Alumnus shows that he may be referring to having sex with Renate and letting everyone know about it in his yearbook in a public manner.  That is called
  Slut Shaming . Below is Renate's the girl he slut shamed's comment.
RENATE ALUMNUS is an actual person named Renate Dolphin who issued the following quote
"I learned about these yearbook pages only a few days ago," Ms. Dolphin said in a statement to The New York Times. "I don't know what 'Renate Alumnus' actually means. I can't begin to comprehend what goes through the minds of 17-year-old boys who write such things, but the insinuation is horrible, hurtful and simply untrue. I pray their daughters are never treated this way. I will have no further comment."
So here, Kavanaugh slut-shamed this young girl at the time in high school. In his testimony, he said it was a friend. She thought nothing of it until she learned the true meaning of the term as you just read. With a friend like that you don't need enemies.
DEVILS TRIANGLE– according to the urban dictionary this term means "a  threesome with 1 woman and 2 men. It is important to remember that straight men do not make eye contact while in the act. Doing so will question their sexuality. "
Kavanaugh said it was a drinking game. Was Mark Judge part of that threesome and is that why he does not want to testify under penalty of perjury?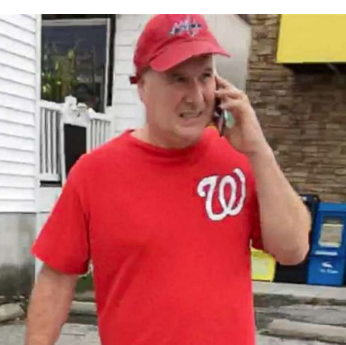 If he wrote these things in his yearbook and this is the meaning of the terms in his yearbook we can say for certain that he had poor character as a 17-year-old with little respect for a woman by slut-shaming her and a penchant for doing threesomes with another guy.
In all fairness, while he made have acted like this in high school  35 years ago, where his character was already formed and there would be no excuse for this type of behavior, perhaps he worked on his
 toxic characters to become a  better and more decent human being as an adult.  Maybe because he had such disrespect for women he is compensating by running a girl basketball team and advancing women professionally.  So far, we have seen no one come forth with any such allegations in his older years.
However, he LIED about the terms he used to the committee. And after researching what they actually mean this is inexcusable. He did laugh them off during his testimony and made light of them as Gold Triangle being a drinking game and Rente  Alumnus being a friend and boofing being farting. That showed embarrassment on his part as he minimized these teenage entries into his yearbook, which didn't raise any red flags at the time. But now there is great cause for concern. 
My take is that I  see a nerdy high school boy going to an all-boys Catholic school who was as  he said,  a virgin (and he may have very well been)  writing these nasty and vulgar sex oriented  entries into his public yearbook for all the other boys in his school to see  to perhaps appear as the big man on campus and to appear like the cool cat he really wasn't.
So if he was a virgin as he says and didn't do a Golden Triangle with his buddy Mark Judge or any other guy, or if he didn't have sex and FFFFRenate, then he lied in his yearbook at age 17. And if he did actually do these things back then, he lied to the nation and to the world.
The FBI has a week to do an investigation. Who knows what they will find since the faith and trust in the FBI has been greatly shaken with all the shenanigans that went on recently with certain FBI agents who were recently fired being less than honorable and ethical.
But no matter what they find in terms of whether he did or didn't molest or rape any women, one thing that if he lied to the committee about the definition of the terms and that is cause for concern.
Comments are closed